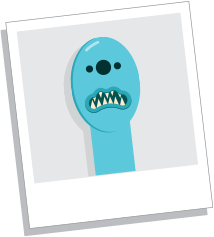 Diphtheria
a.k.a Dippy
Horrible bug which causes diarrhoea, vomiting and severe dehydration in people travelling to South and Central America, Africa and Asia. Found in infected food and water.
Key Fact
Up to 10% of people with diphtheria die from complications.1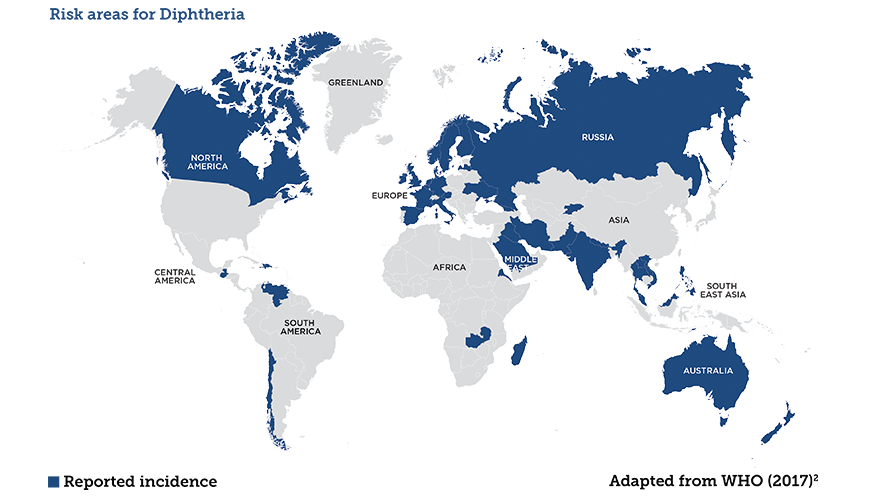 How do people catch the disease?
Through close contact with someone infected with the bacteria which cause the disease.1, 3 You can also get diphtheria from contact with belongings such as clothing or bedding.
Which countries are affected?
Cases are reported from many areas including North America, Europe and Australasia (see map).2 But the disease is more common in countries which do not offer routine vaccination.
What are the symptoms?
Fever, sore throat, difficulty swallowing, general feeling of being unwell, loss of appetite and sometimes hoarseness.3
How serious is the disease?
Severe diphtheria can cause difficulty breathing which can be fatal.3 There may also be serious effects on the heart and nervous system. You need to get treatment with antibiotics and antitoxin promptly. Someone with suspected diphtheria is likely to be treated in a hospital isolation ward.
Can I reduce the chances of catching the disease?
You can take the following precautions to help reduce your risk of infection:
Visit your nearest convenient pharmacy or specialist travel health clinic for a risk assessment before your trip
Wash your hands frequently, either with soap and water or alcohol-based sanitisers4
Avoid contact with people who have symptoms of respiratory illness4
Avoid sharing personal items such as eating and drinking utensils5
Regularly clean surfaces that may be contaminated with the bacteria6
References:

1. NHS Choices. Conditions. Diphtheria. February 2015. Available online: http://www.nhs.uk/Conditions/Diphtheria/Pages/Introduction.aspx (Last accessed September 2017)
2. World Health Organization. Immunization Monitoring. Diptheria Reported Cases. September 2017. Available online: http://apps.who.int/immunization_monitoring/globalsummary/timeseries/tsincidencediphtheria.html (Last accessed September 2017)
3. Centers for Disease Control and Prevention. Yellow book 2018. Chapter 3 Infectious Diseases Related to Travel. Diphtheria. June 2017. Available online: https://wwwnc.cdc.gov/travel/yellowbook/2018/infectious-diseases-related-to-travel/diphtheria (Last accessed September 2017)
4. Centers for Disease Control and Prevention. Yellow book 2018. Chapter 2 The Pretravel Consultation. Respiratory Infections. May 2017.
Available online: https://wwwnc.cdc.gov/travel/yellowbook/2018/the-pre-travel-consultation/respiratory-infections (Last accessed September 2017)
5. Health Service Executive (HSE) Ireland. Respiratory tract infection. Available online: https://www.hse.ie/eng/health/az/R/Respiratory-tract-infection/Preventing-respiratory-tract-infections.html (Last accessed September 2017)
6. NHS Choices. Respiratory tract infections. April 2015. Available online: http://www.nhs.uk/Conditions/Respiratory-tract-infection/Pages/Introduction.aspx (Last accessed September 2017)
UK/TRA/0817/0171m September 2017